In the digital age, having a website is a business necessity. It's your digital storefront, your best marketing tool, and your primary point of customer engagement.
But often, one question arises, "How much does web design cost?" This blog post is designed to help you navigate through the cost of designing a website, whether you do it yourself, hire a freelancer, or engage a professional web design agency.
How Much Does Building a Website Typically Cost?
The cost of a website for a small business, or any other business of size, varies greatly based on several factors, like the size of the site, the level of customization required, the functionality you need, and more.
If you're going for a do-it-yourself approach using website builders like Wix or Squarespace, you can expect to spend something between $200 to $500 per year. These costs typically include hosting, a domain name, and a limited set of features.
If you're looking for a professional-level website that requires custom design, e-commerce functionality, or other unique features, these start from around $5,000 and can go up to $10,000 or even more.
How Much Does a Web Design Cost When Hiring a Freelancer?
Hiring a freelancer to design your website may be a cost-effective option, especially for small businesses or start-ups. Freelancers often have more flexibility to work within various budgets and can offer more personalized service.
Freelance website design prices can vary widely, from as low as $500 for a basic site to as high as $10,000+ for more complex projects.
Keep in mind that prices can be influenced by the designer's experience, the scope of the project, the timeline for completion, and the specific skills required. So, it's always a good idea to discuss these factors upfront to get a more accurate quote.
Remember, the cheapest option may not always be the right choice for your business. It's crucial to find a designer or agency that can deliver a website that not only looks good but also functions seamlessly and provides a great user experience.

Pros of Hiring A Freelancer
Here are the benefits of working with a freelancer:
Cost Effectiveness
One of the main advantages of hiring a freelancer for web design is the potential for cost savings. Since freelancers have less overhead than a traditional agency, they can often provide competitive rates for their services.
Flexibility
Freelancers also often offer more flexibility than web design agencies. They can work according to your schedule and adjust their workflow depending on your needs and deadlines. This flexibility can be beneficial for businesses that require quick turnarounds or have unique requirements.
Direct Communication
When you hire a freelancer, you communicate directly with the person who is working on your project. This direct connection can lead to better mutual understanding and the potential for more tailored results.
Specialized Expertise
Freelancers often specialize in specific areas of web design. If you're looking for a site with a particular style or function, finding a freelancer with specific expertise in that area can provide a unique advantage.
Cons of Hiring a Freelancer
However, some disadvantages of hiring an independent contractor include the following:
Limited Resources
While freelancers can offer specialized skills, they might lack the resources that a web design agency has. Agencies often have a team of designers, developers, and copywriters, which allows them to tackle large or complex projects more effectively.
Availability and Reliability
Freelancers may have multiple clients to cater to and might not always be available at short notice. If your project requires constant updates or immediate responses, a freelancer's schedule might be a hindrance.
Risk of Inconsistency
Working with a freelancer might lead to inconsistency, especially if you require multiple projects over time. Freelancers could get booked with other projects, raise their rates, or even disappear, leaving you to start from scratch with someone new. With an agency, the risk of inconsistency is often reduced due to its stability and reputation.
How Much Does A Website Cost Using Website Builders?
The cost of building a website using website builders such as Wix, Squarespace, or WordPress can range from very affordable to quite expensive, depending on the features you need.
For basic packages, it can start from around $5 to $20 per month, including hosting and domain registration. However, prices quickly climb as you opt for more extensive features, premium themes, or e-commerce capabilities. It's not uncommon to see prices ranging from $30 to $500 per month for more advanced packages.
Pros of Using Website Builders
The benefits of using website builders are listed below:
Ease of Use
Website builders are designed for people without a background in web design or coding. Most of them come with drag-and-drop features and pre-built templates, so users can create attractive and functional websites easily.
Cost-Effective
For small businesses or individuals on a tight budget, website builders can be an affordable option. You can establish a web presence without hiring a freelancer or a web design agency, saving a considerable amount of money.
Quick Setup
Website builders often offer speed and convenience. You can have a website up and running in a matter of hours, even minutes, in some cases.
Cons of Using Website Builders
The disadvantages of using website builders are discussed below.
Limited Customization
While website builders offer various templates, the customization options are often limited. This restriction might fall short if you have specific branding guidelines or if you desire a unique website design that stands out.
Template-Based Designs
As templates are used by multiple website builders, there's a risk that your website might look similar to many others out there. The template-based nature might compromise the originality of your website's design.
Platform Dependency
When you build a website using a website builder, you're tied to their platform. If you want to move to another platform or host, migrating your website can be challenging. Also, if the website builder company shuts down or decides to change its policies or prices, this could impact your website directly.
How Much Does Website Design Cost When Outsourcing to a Web Design Agency?
Questions also arise, such as "How much does it cost to create a 5-page website?" Well, website design costs can vary significantly when outsourcing to a web design agency.
The prices may range from $5,000 to $50,000 or even more, depending on factors like the size, complexity, and features of the website. Custom-made sites, e-commerce capabilities, and additional services like SEO, content creation, and digital marketing can also influence the overall cost of the project.
Pros of Hiring A Web Design Agency
Here are some of the reasons why it's a good idea to hire a web design firm:
Professional Expertise
Web design agencies employ professionals with extensive experience and skills in different aspects of website design. The team typically comprises specialists in web design, coding, and web development, ensuring a high level of expertise for your project.
Resources & Infrastructure
Agencies often have the infrastructure and resources to tackle complex or large-scale projects. This includes access to advanced tools, industry-leading software, and a team of experts who can manage diverse tasks effectively.
Established Processes
Web design agencies usually follow a well-structured process for designing and developing websites, ensuring smooth project execution and timely delivery. They are also familiar with technicalities, like best practices for mobile and desktop optimization, which can benefit your website in the long run.
Scalability & Support
Agencies can often provide long-term support and are better positioned to handle the demands of growing businesses. They offer scalable solutions and can accommodate future expansions, redesigns, or updates required for your website.
Cons of Hiring A Web Design Agency
Among the many drawbacks of working with a web design company are the following:
Higher Cost
Web design agencies typically charge higher fees due to their overhead expenses, larger workforce, and the higher levels of expertise they provide. This can make agency services less affordable, especially for small businesses or startups.
Potential for Communication Challenges
Working with a web design agency might introduce communication challenges, depending on the size and distance of the agency. In some cases, you may be dealing with account managers or more intermediary contacts rather than the actual design team, which could result in potential miscommunications or delays in project updates.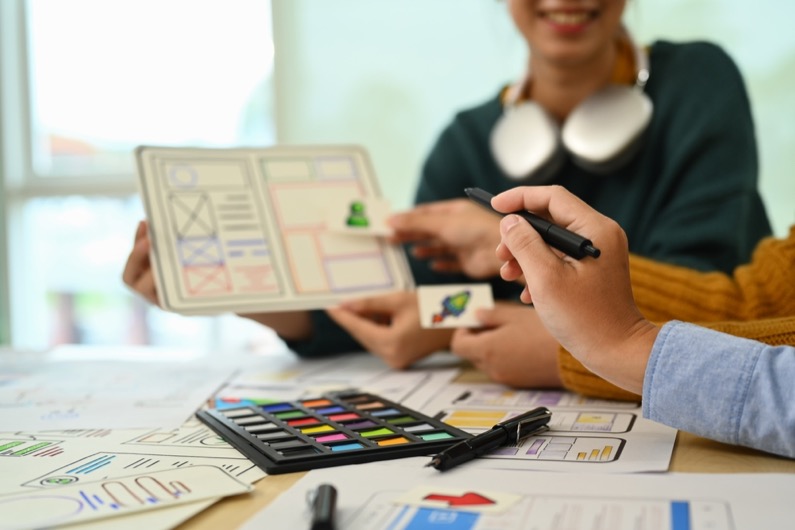 What Affects the Cost Of Hiring a Web Designer?
Several factors might influence the cost of hiring a web designer, including the complexity of the website, specific functionalities required, the designer's experience level, revisions needed, and the timeframe for project completion. Moreover, the cost can also be affected by whether the web designer charges an hourly rate or a flat-rate fee.
Additional Costs To Consider When Creating A Website
The following are some of the other expenses you may incur when making a website:
Add-Ons and Plugins
Depending on the functionality requirements of your site, you might need to consider purchasing certain add-ons or plugins. These can enhance the user experience but can also add to the overall cost.
Secure Hosting
While some cheap hosting options are available, considering secure hosting is crucial for your website's performance and security. Providers with good reputability usually offer plans that include robust security measures, which inevitably incur additional costs.
SSL
An SSL certificate is essential for safeguarding personal information gathered through your site, and it's incorporated into the cost of building a professional website.
Creating Website Content
Quality content is crucial for any website. Depending on your abilities and time, you may need to hire a professional copywriter to create engaging and SEO-friendly website content.
Images
Stock images or hiring a professional photographer to provide images for your website can add to your costs.
Hiring a Webmaster/Content Manager
Maintaining a website requires time and certain technical skills. You might need to hire a webmaster or a content manager to update content regularly, manage SEO, or address any technical issues.
Search Engine Optimization (SEO)
SEO helps your site rank higher in search engine results, which can drive more organic traffic. While some basic SEO can be done during the website development phase, ongoing SEO efforts usually incur ongoing costs.
Hire An Experienced Web Design Agency in Houston, TX
When it comes to creating a professional, functional, and engaging website, the benefits of hiring an experienced web design agency clearly outshine freelancers and DIY website builders.
An agency like LeadOrigin is an industry leader in web design and development, offering comprehensive services that cater to small to medium-sized businesses, e-commerce platforms, and advanced WordPress sites across various industries.
Choosing LeadOrigin means you're opting for a pool of professional expertise, access to top-notch resources and infrastructure, established design processes, as well as scalability and support for your growing needs. We also ensure transparent communication throughout the project and swift navigation through any potential challenges.
Operating in  2100 W Loop S #1400, Houston, TX 77027, LeadOrigin is committed to designing websites that not only attract visitors but convert them into customers. Our mission is to make your digital presence as impactful as possible. Don't let website worries hold you back, reach out to LeadOrigin, and step into a seamless web journey. Contact us today!