Instagram is not just for posting selfies.
It's also a tool that you can use to grow your business. As of 2020, 90% of the almost one billion users on Instagram follow a business account.
You can hack the same strategies those accounts use every day and boost your followers. More followers equal more potential customers. It's an equation as easy as pie.
Below are 6 simple steps on how to grow your business using Instagram.
Step 1: Open A Professional Account
This first step may seem like a no-brainer, but you need to choose the right type of account when you're creating your profile. This way you can take advantage of tools like the shop, ads, and engagement insights.
When you open the Instagram app, navigate to Settings and select "Switch to Professional Account."
Next, choose the category that your business fits into the best, and then tap "Business."
And that's it!
With just a few swipes and taps, your brand's Instagram account is now live.
Step 2: Craft an Attractive Profile That Tells People Who You Are
When you're customizing your profile, keep your brand front and center.
Start by crafting a brief bio that describes in just a few poignant words what you're all about. Make sure you include a link to your website in your bio, as well.
For your profile picture, upload your business logo or another image that is uniquely yours and captures the essence of your brand.
Set up stories that show your new followers who you and your team are (if you have one), your company's mission statement, behind-the-scenes clips, and more.
Whatever you do, just make sure it all ties back into your business, both visually and verbally. Users who come across your account should be able to tell exactly what services or products you provide with a cursory glance.
Otherwise, they may get bored and move on to someone else's account without a second look.
Step 3: Post All Different Kinds Of Content
Instagram features several different types of content for you to choose from.
You can upload a picture, Stories, a 15- or 30-seconds long Reel, and IGTV videos. It's important to utilize each of these to give you the broadest exposure.
Just make sure you don't upload too much! The recommended number of posts for your feed is 2-3 per week, or no more than once a day. According to a study by Hootsuite in 2021, the average business publishes about one post a day to their feed.
Stories, on the other hand, can and should be updated every day; twice a day, according to Instagram head Adam Mosseri. It's a format that's meant to be viewed quickly, and that is always conveniently and discreetly located at the top of your screen so it doesn't clutter up your followers' feeds.
Step 4: Engage With Your Community
The power of engagement cannot be understated.
Remember that your primary goal as a business is to generate customers.
One of the best ways to do that is to show potential customers that you're interested in them and that you want to cater to their needs.
Studies show that people respond better to excellent customer service. Provide them with that on Instagram.
There are several ways to engage with your followers (and create new ones in the process). One option is to post a leading question in your content and reply to users' responses. Another is to insert a call to action in your Stories, such as a link that will lead them to your shop or a giveaway.
You can also ask people to share their thoughts on a subject or product that's relevant to your business and include a specific hashtag.
Step 5: Sell Your Products On Instagram Shopping
Did you know that you can sell your products on Instagram?
All you have to do is upload your products to the Shopping section.
Next, feature those items in your Stories, posts, and video content. Then, when your followers see an item they want, all they have to do is tap on the image and they can purchase it right away. No need to navigate to another site; they don't even have to leave the app!
Instagram Shopping is quick and convenient, and it's a wonderful, lucrative way to grow your customer base and make money.
Step 6: Use Instagram Tools To Expand And Improve
Instagram has several tools that will help you expand your business even further. It also helps you improve your current marketing strategy where it's needed.
Below are some of the special features that Instagram offers to help you grow your brand.
Personalized Marketing Plan
If you need extra help, Instagram will provide you with a free step-by-step marketing plan, customized for your unique needs.
Instagram allows you to track your posts' performance. You can check to see which content is getting the most likes, comments, shares, and follows, so you can make a plan for repeating that success in the future.
On Instagram, you can opt in to pay for ads on your account, or boost posts that you need to perform well. The interface is extremely user-friendly. It lets you set your ad budget and the duration of the ad, but you can also change either of those elements at any time.
Boosting is easy: just select the post you want to promote and tap the "Boost Post" button on your screen.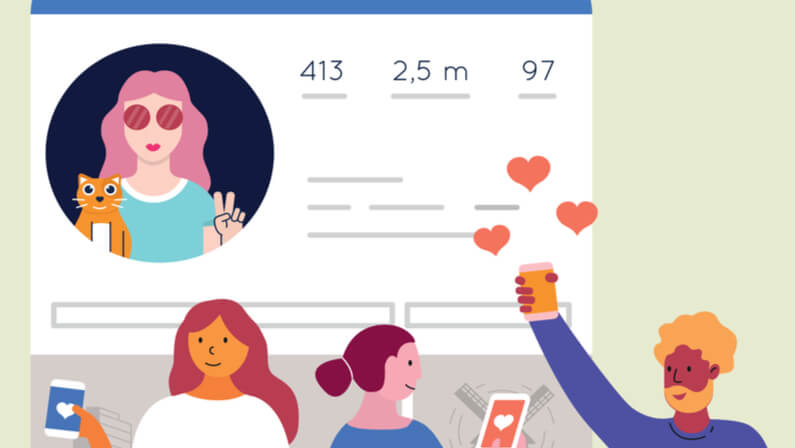 If you ever feel overwhelmed or discouraged about growing your business on Instagram in 2021, just remember this statistic: business accounts on Instagram grow their followers by an average of 1.46% every month. Just follow our steps, and watch your followers and your brand bloom!