We all know that social media is vital to our online presence. But how do you ensure your Facebook, Instagram, Twitter, and Pinterest images are the right size? It's easy to get confused about the exact dimensions of each platform, but we're here to help!
Check out this blog post for a quick rundown of all the best practices for social media image sizes.
Social Media Image Sizes Per Network
Going on your favorite social media platform can be fun, but getting your message across can be challenging. One of the most important things you can do when posting on social media is to ensure your photos are optimized for each platform.
It's imperative to ensure your images are sized appropriately for each network so they don't look distorted or blurry.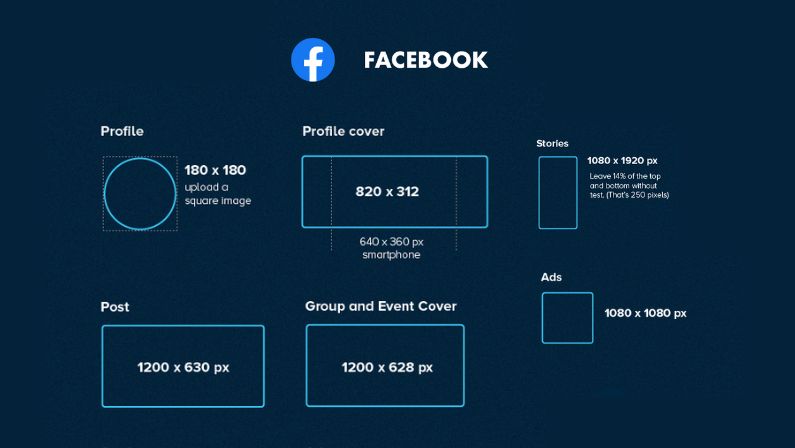 Facebook Image Sizes And Dimensions
The Facebook page is one of the paramount elements of your business, and you want to ensure it looks as good as possible.
Profile Picture: 180 X 180
Facebook image sizes are essential. Your profile picture is the image that represents you or your brand on Facebook. It's the square image that overlays your cover photo on your timeline, and it also shows up when you comment on postings, post to other walls, or have your profile searched for.
On a page, a photo will display at 170 x 170 pixels on a desktop and 128 x 128 pixels on a smartphone. On a desktop computer, profile images are positioned at 176 pixels above and 16 pixels to the left of your cover image.
On smartphones, profile images are situated 196 pixels from the top, 24 pixels from the bottom, and 24 pixels from the left of your cover image. Facebook will display photo thumbnails at a resolution of 32 × 32 pixels.
Business Page Profile Picture: 180 X 180
Facebook is constantly changing. In the past, Business Pages had a Profile image that was displayed on the right-hand side of the screen. Now, Facebook has changed that so that the Profile image shows up on the left side of the screen and stands out from personal profiles.
Even though the image's dimensions are 180 x 180 pixels, it displays differently on Facebook. The instructions for creating your Business Page's Profile image are as follows:
The image must be 180 × 180 pixels minimum. On Facebook, it will display at 170 x 170 pixels on desktops, 128 x 128 pixels on smartphones, and 36 x 36 pixels on feature phones. Facebook will display photo thumbnails at a resolution of 32 × 32 pixels. Images from your Business Page will be cropped to fit a square.
Facebook Cover Photo: 830 X 312 Pixels
The Facebook cover photo is the image that appears at the top of your Facebook page. It's one of the most critical parts of your brand's identity, so it's essential to get it right.
The banner image at the top of your Facebook page is your cover photo. Avoid making this image smaller than 820 x 312 pixels since it will be stretched to fit.
One of the most popular sharing types on Facebook is an image. Although it's doubtful that everyone will see your post due to the decline in organic reach, these photographs will always be visible on your timeline and, ideally, appear in the News Feeds of most of your followers. The rest of your followers and their followers will likely see activity on your post as more people interact with it.
A resolution of 1200 x 630 pixels is advised for uploads.
A DPI of 72 pixels per inch is advised when publishing via Sprout.
The feed will have a maximum width of 470 pixels (it will scale to a maximum of 1:1).
It will have a total width of 504 pixels on the page (it will scale to a max of 1:1)
Facebook Event Cover Photo Size: 1200 X 628 Pixels
Whether your event is physical or virtual, creating a Facebook event is a terrific way to spread the word about it. In addition, you can post a cover photo to your Facebook event listing to set the scene for the event. The suggested size for Facebook Events cover photographs is 1200 x 628 pixels.
Stories Images: 1080x1920 Px
The size of your story images is 1080 x 1920 pixels. This size makes it easy for people to see your stories in their newsfeeds, and it also means they'll show up in the right part of their feed.
Ads Images: 1080 x 1080 Px
When creating ads, your image is the first thing people see. That's why it's so vital that you make sure your ad images are optimized for social media. The ideal size of an ad image is 1080px wide by 1080px tall.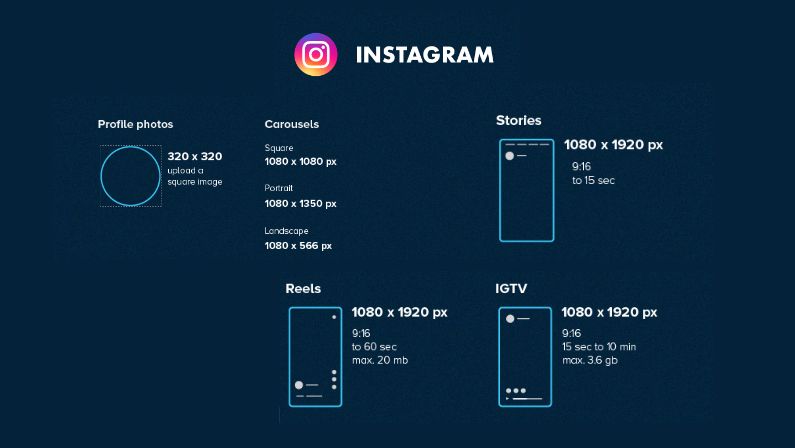 Instagram Image Sizes And Dimensions
Instagram is a great way to share your content with the world. But it can be tricky to figure out how to optimize your posts so as many people see them as possible.
One of the most important things you can do to get more impressions is to use the right size and shape for your photos. So we've put together a quick guide to help you understand what sizes work best and how they'll impact your reach on Instagram.
Instagram Profile Picture Size: 320 X 320px
Instagram is a social media platform that uses photos and videos to share your life. Your Instagram profile picture is essential to your overall profile, so it must be appealing.
On mobile, your profile photo will be 110 x 110 pixels; on a laptop, it will be 180 x 180 pixels. An image 320 by 320 pixels in size will look fine on all screens.
Instagram Story Size: 1080 X 1920 Pixels
One of the best ways to interact with your fans with full-screen content is through Instagram Stories. When submitting to Stories, use a 9:16 aspect ratio or the recommended resolution of 1080 x 1920 pixels.
IGTV Size: 1080 X 1920 Pixels
Longer videos can now be uploaded to Instagram using IGTV. The optimal size for these films is 1080 x 1920 pixels, which has a 9:16 aspect ratio. Like Instagram Stories, this format will show your material full-screen to give your fans an incredibly engaging experience.
Instagram Reels Size: 1080 X 1920 Pixels
Full-screen videos are available in Instagram Reels. In other words, you should strive for 1080 x 1920 pixels, or a 9:16 aspect ratio, the same size as Instagram Stories.
Instagram Carousel Image Sizes
Instagram carousel images are the photos you see when you click on a hashtag. You may also know them as "tiles."
These images are square by default, but you can use landscape or portrait images too. The recommended aspect ratio for these tiles is 1.91:1 (4:5). Still, you can use any image that fits within the recommended dimensions of 1080 pixels wide by 566 to 1350 pixels high (depending on whether the image is landscape or portrait).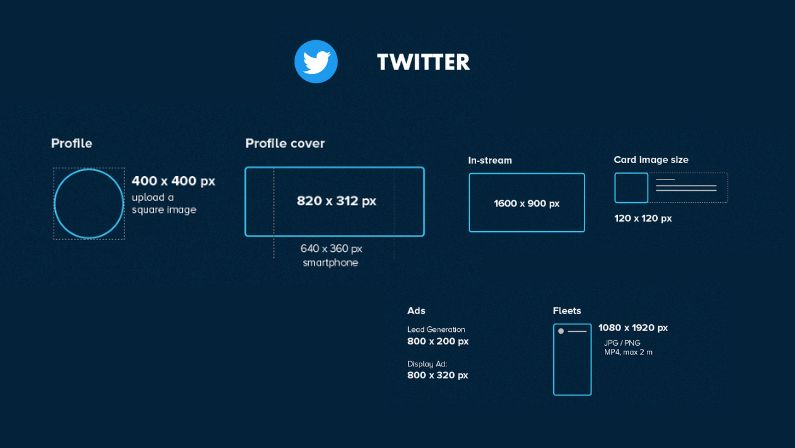 Twitter Image Sizes And Dimensions
Twitter is a social media platform that allows users to share short, text-based posts with their followers. Although the posts are known as "tweets," Twitter has specific requirements for the images that can be used.
Twitter Profile Photo Size: 400 X 400 Pixels
Although Twitter will crop it to look like a circle, it is advisable to use a picture that is 400 x 400 pixels square for your Twitter profile photo. Why? It is the picture's actual size, and you want to ensure your profile photo looks good in all sizes. Also, if you use a smaller image, it will not be visible when someone searches for you on Twitter or even in the search bar when someone clicks on your name.
Twitter Cover Photo Size: 820x312 Px
One of the best ways to interact with your fans with full-screen content is through Instagram Stories. When submitting to Stories, use a 9:16 aspect ratio or the recommended resolution of 1080 x 1920 pixels.
In-Stream Photos And Shared Links: 1600x900 Px
Users of Twitter can include images in any of their Tweets. However, how photographs are cropped and displayed in the stream varies depending on whether you're adding one photo, several photos, or sharing a link.
For most photographs with normal 4:3 or 16:9 dimensions (or close to them), you won't have to worry as much about centered objects around automated cropping. But, extremely broad or tall images with unique dimensions may still get cropped.
If you're an avid user of Twitter's native app, you'll notice that images are automatically reduced to their most essential features. This reduction means that if someone posts a photo from their camera roll, it will be cropped into a square—even if it's not the standard dimensions for 720px by 1080px or 1080px by 1920px (which are the typical dimensions for mobile devices).
The best way to ensure your card images are sized correctly is to use a tool like Canva or Photoshop. Those programs will automatically tell you the recommended sizes for each platform. So, for example, if you want to create an image for Twitter, you need an image that's 120×120 pixels.
Twitter Ads are a great way to promote your business, but you'll need to create some images for your account before you start spending money. The first step is to upload an image for your profile picture. This image should be your logo or your company's name but in a simple and recognizable format. The second step is to create an ad banner. This ad banner should be at least 1500 x 500 pixels but can be more significant if needed. It should also contain your logo or brand name in an easily recognizable form. Finally, Twitter Ads requires that every ad have a clickable URL in the description field at the bottom of the image.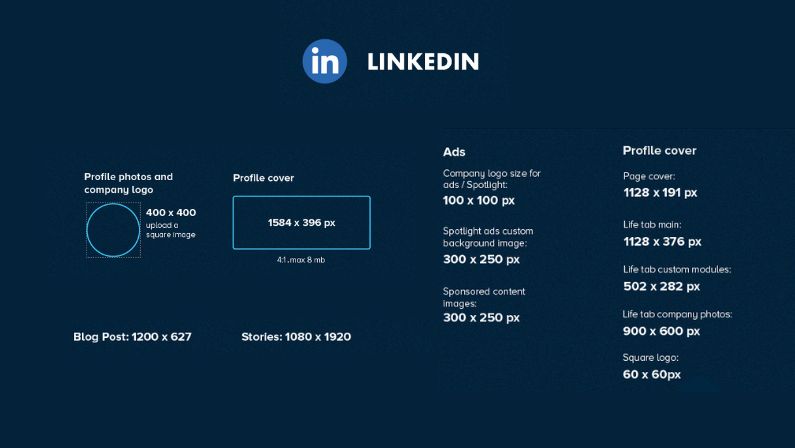 Linkedin Image Sizes And Dimensions
LinkedIn is a great way to connect with people, share your work, and keep up with the latest trends. There are also a few LinkedIn image size guidelines you should be aware of.
The social media platform has specific dimensions for images to ensure these images look best on their website. If you are unaware of these dimensions, your images will either not display correctly or take up too much space on the page.
Linkedin Image Sizes For Profile Photos: 400 X 400 Pixels
Up to 7680 × 4320 pixel pictures can be uploaded to LinkedIn.
Upload as big a file as possible to secure your upload in the future; it can handle files up to 8MB.
The best way to ensure you get your image just right is to use a tool like Canva or Pixlr. These will let you crop and resize images, so they're exactly what you need and are free!
Linkedin Image Sizes For Profile Cover Photos: 1584 X 396 Pixels
LinkedIn is an excellent platform for showcasing your brand and connecting with other professionals. One of the ways to do this is by using a LinkedIn cover photo, a large photo that appears at the top of your profile page.
A LinkedIn cover photo should be:
1584 x 396 pixels (4:1 aspect ratio)
No more than 8MB in size (to avoid users having to wait while they load)
Linkedin Image Sizes For Blog Post Link Images: 1200 X 627 Pixels
1200 x 627 pixels is the custom picture size for posting a link on Linkedin. This size is recommended.
If an auto-generated thumbnail image is available, it might appear in the preview when pasting a URL into an update along with the article or website title. Nevertheless, you can change it by choosing a picture from your computer and clicking the Picture icon below the text box.
Linkedin Image Sizes For Company Pages
LinkedIn's image sizes vary depending on which section you're posting in. Here's what you need to know:
The company logo should be 300 x 300 pixels, and the page cover image should be 1128 x 191 pixels.
For the Life Tab, your top image should be 1128 x 376 pixels; for custom modules, it should be 502 x 282 pixels.
For Life Tab Company Photos, the size is 900 x 600 pixels.
The minimum size for a LinkedIn post is 1200 x 628 pixels.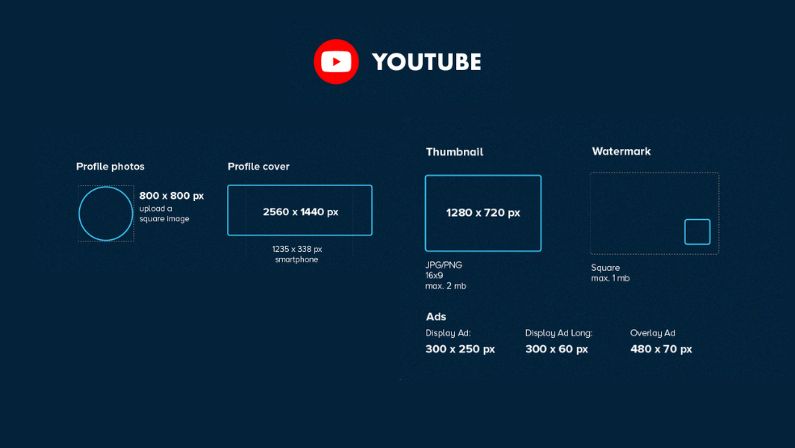 If you're a YouTuber, you know that the size of your videos is just as important as the content itself. The correct dimensions can help your video get more views and make your channel look more professional.
And if you're looking to expand your presence on social media, having images that fit perfectly as cover photos or profile pics helps give your followers an accurate impression of who you are.
Youtube Profile Photo Size: 800 X 800 Pixels
Many people want to know their YouTube profile photo size, so we thought we'd make a quick guide.
The best photos for your profile are 800 x 800 pixels, but you can also use any image that contains your face between 640 x 480 and 1228 x 652. Make sure to center the focus of your photo for the best results.
Youtube Banner Image Size: 2560x1440 Px
The Youtube banner image size is 2560×1440 pixels. This requirement means that you need to create an image that is 2560 pixels wide and 1440 pixels tall.
You can use any image editing software to create the image. You can also use a free online tool to do it.
Youtube Video Size: 1280 X 720 Pixels
YouTube suggests 1920 x 1080 pixels for videos on their platform; however, videos must be at least 1280 x 720 pixels in size to be accepted by YouTube. The aspect ratio is 16:9. Here are some standard sizes for resolution and aspect ratios for Youtube:
4320p (8k): 7680×4320
2160p (4K): 3840×2160
1440p (2k): 2560×1440
1080p (HD): 1920×1080
720p (HD): 1280×720
480p (SD): 854×480
360p (SD): 640×360
240p (SD): 426×240
Youtube Thumbnail Size: 1280 X 720 Pixels
Your Youtube thumbnail is the first thing people will see when they click on your video. Therefore, you must have a high-quality, eye-catching image for this section!
There are many types of thumbnails, but the most common type is a square or rectangle. Here are some examples of what your thumbnail might look like:
The largest dimension of your thumbnail should be 1280 pixels wide by 720 pixels tall. This size ensures that the image will be displayed correctly on all devices. You can also use an image with a smaller dimension than 1280 x 720 pixels if it fits within these dimensions and still looks good as a thumbnail (e.g., 640 x 360).
The size of your watermark is crucial because it affects how the text reads. If your watermark is too small, it will be legible. If it's too big, it will obscure too much of your video and take away from the content. The recommended size for a Youtube watermark is between 2 and 10% of the video frame.
If you want to maximize the effectiveness of your ad, you need to optimize images for social media and mobile devices. That means making sure they're at least 1200 pixels wide and have enough contrast to appear clearly on any screen.
Why Using the Proper Social Media Picture Sizes and Formats is Important
Obviously, when it comes to social media marketing, you shouldn't discount the value of pictures. Still, staying on top of the constantly evolving social network image size recommendations might take time. When you share a graphic that is awkwardly cropped or unviewable on all platforms, its effect is reduced; therefore, getting it dialed in correctly is critical.
The Right Size For Your Social Media Presence
In conclusion, the size of your social media image is essential. A good image will help you attract more attention and engage with your audience. But if the image is too large or small, it can make people want to scroll past it faster than they would otherwise.
If you want to ensure your images are perfect for social media, we recommend using an app such as Photoshop or Canva. These apps allow you to resize images quickly and easily without compromising quality.
If you want to learn more about how Lead Origin can help you with this issue, check out our services or talk to our experts in Houston today!