We know what you're thinking, "B2C is marketing to consumers. B2B is marketing business-to-business." Sorry to burst your bubble, but it's not as simple as that. B2B means different things in different industries, so let's start with the basics.
What is B2B Marketing?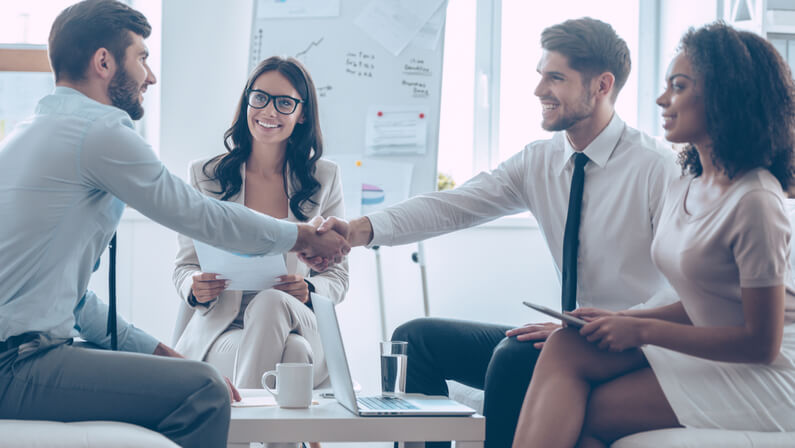 People tend to use B2C, or business-to-consumer, to describe marketing strategies targeted at companies to sell them products or services. We're talking about things like, say, Google Ads for plumbing contractors or CBD oil for yoga studios. But "business-to-consumer" is not only a horrible mouthful; it's overly broad.
B2C is marketing to consumers. B2B is marketing business-to-business. The two are not interchangeable. We're going to tell you why.
What is the Difference Between B2B and B2C Marketing?
B2B marketing is differentiated from B2C in several different ways. The most crucial difference between the two designations is who you are marketing to when you use these strategies.
B2C sales tend to be individualized instead of at the company level. For example, an AdWords campaign aimed at plumbers in New York City is B2C.
B2B sales are aimed at businesses, not individuals. The B2B customers you are targeting are other companies. For example, an AdWords campaign aimed at plumbing contractors in New York City is B2B.
Types of B2B Marketing
Now, let's get into the various types of B2B marketing. We'll look at the many different ways to use this term in your business and how it can help you grow your brand.
1. Search Engine Optimization (SEO)
This is probably one of the most well-known forms of search engine marketing. It is the process of optimizing your website and content to rank high in search engine results.
This is most often done by adding Meta tags, creating a sitemap, or building links from other websites to yours. This form of marketing can be beneficial for companies that sell their products on their own websites, but it can be applied to any business.
2. Search Engine Marketing (SEM)
Also known as paid search, this strategy is a type of advertising on a search engine's website or platform. It works by allowing you to bid on keywords so that your ad shows up at the top of the results page when someone searches for those terms.
3. Content Marketing
Content marketing is the process of creating relevant, high-value content that your target audiences will enjoy or find useful. You then publish this content on your website or share it with customers in an email newsletter format.
4. Social Media Marketing
Social media marketing is the process of leveraging your business's social profiles to get more traffic, leads, and engagement for your brand.
5. Email Marketing
This type of marketing features email newsletters sent to your subscribers regularly. This is an ideal form of marketing if you have a list of people who have opted to receive direct communication from you.
6. Social Listening
Social listening is the practice of monitoring what people are saying about your brand, competitors, and industry online. This can include tracking keywords in social media posts, hashtags on Twitter, or using Google alerts to track relevant information.
7. Trade Shows
While trade shows may be more popular for B2C companies, they are still an excellent option for B2B marketers. Trade shows are a perfect way to find new leads and build relationships with existing customers if you have the budget.
8. Google Ads
Google Ads is an online platform to buy ads at popular search engines like Google, YouTube, and the Microsoft network. If you're using it for your B2B company, there are some key benefits to keep in mind:
You can quickly connect with new customers and leads
You can use geo-targeting to connect with people local to your business
Your keywords are more targeted than organic searches, which means you'll spend less money on clicks that don't convert
9. Google My Business
Google My Business is a free tool that allows you to create and manage your presence on Google Search and Maps. It's a perfect option for brick-and-mortar businesses that want to attract customers with local searches. It can also help you rank organically in search engine results if done correctly.
Other forms of online marketing can help you grow your business, but these are some more popular options.
B2B Marketing Process: How Does it Work?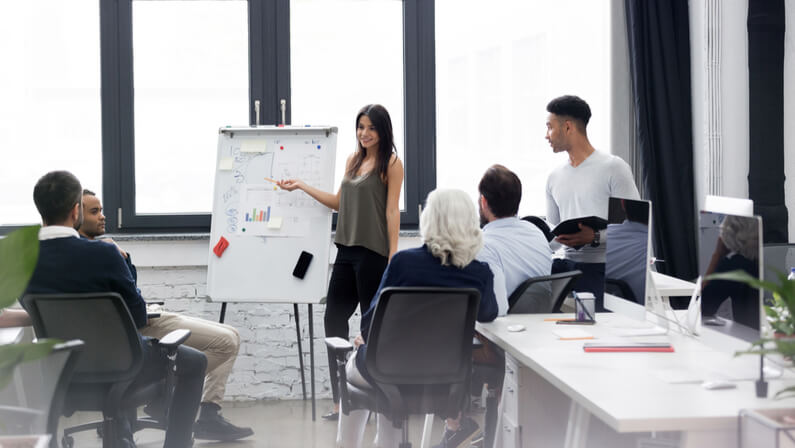 B2B marketing works by creating content that appeals to buyers at every buying cycle stage. The process has 3 main elements as follows:
1. Awareness Building
It's essential to have both awareness-building and demand generation activities in your B2B marketing plan. Unlike consumer companies, most business customers are not aware of what they need when they initially find you.
They may already understand their problem, but they don't know how to solve it. In these cases, your content should help prospects better understand their issues and options.
2. Demand Generation
Once they're aware of what they need and want, B2B buyers will typically research a few brands before making a purchase decision. This is when demand generation comes into play – you can generate demand by running ads, sending out eBlasts, and hosting webinars.
As buyers evaluate their options, they'll look for proof that your company is credible, has a track record of success, and can solve problems effectively.
3. Lead Nurturing
When your prospects are finally ready to make a purchase, it's time for nurturing activities like e-mail marketing and lead nurturing emails to help them move further down the funnel and become potential customers or partners.
As buyers progress through the buying cycle, it becomes more crucial to deliver content that appeals to each buying cycle stage. On average, it takes seven or eight interactions with a buyer before they become a customer.
If you can align your B2B marketing efforts with this buying cycle, you'll have a much better chance of closing deals.
Creating a B2B Digital Marketing Strategy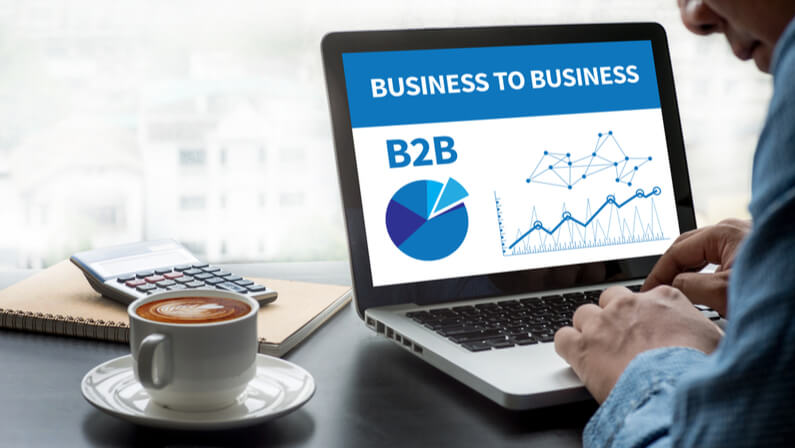 Now that you understand how B2B marketing works, it's time to create a plan. Here are four essential components of any successful strategy:
1. Set Goals
Before you do anything else, you should set goals for your B2B marketing efforts. The easiest way to do that is by referencing the buyer's journey, which will look different for each person.
First, identify the goal at the awareness stage – for example, you might want to gain more website traffic so that more people come across your content and learn about your offerings.
Then, think about what you need at each of the following stages: Awareness: More website visitors, social media followers, and email subscribers. Consider Google Analytics to find out which content is most popular and where there are holes in your strategy.
2. Define Marketing Channels and Content
After you've set goals, it's time to choose the specific avenues you'll use to create awareness, generate demand, and nurture leads. For example, with so many options available today, you can create a content strategy that includes videos, podcasts, white papers, and blog posts.
3. Set a Budget
It's essential to invest in your B2B marketing efforts so you can attract more leads and turn them into customers. Be sure to include a budget for all of the above activities – from paid ad marketing campaigns to inbound marketing.
4. Make a Plan and Execute
Once you've defined your goals and channels, it's time to put together a plan that outlines when each effort will begin and end, along with which team members will be responsible for each one.
Once the plan has been approved, you can start executing B2B marketing activities like lead nurturing emails and blog posts.
5. Brand Messaging
Another vital part of your B2B marketing strategy is thinking about how you'll communicate with prospects and customers.
Your messaging should be consistent across all channels, which means that it needs to align with where people are in the buying cycle (i.e., awareness stage message won't resonate with someone who's already decided she wants to move forward).
6. Track and Report Results
The best way to improve your B2B marketing strategy is by tracking what's working (and what's not) so you can make changes along the way.
The easiest way to do this is through a reporting tool that lets you track metrics like website traffic, social media following, and the number of leads generated.
From there, you can see where your efforts are paying off so you can focus on the channels and content that are most successful at reaching potential customers.
In a Nut Shell
To create a successful B2B marketing strategy, begin by identifying the goal of your efforts and brainstorming channels and content that align with it. Then, set a budget for each strategy and start executing your plan.
Finally, make sure to track and report on results to improve what's working and make changes where things aren't.